Thank you FACEBOOK for this little beauty:
I had just sent Adam a text reminding him of our Ethiopian Wedding Celebration.
& there was my little facebook reminder.
This day last year was a lavish celebration of love. A celebration of culture and customs and the joining of two worlds.
When Adam and I decided to marry I was really nervous about how we could combine all the culture and customs of our two lives.
It almost seemed an insurmountable task.
We weren't sure if we would marry in Ethiopian, then celebrate and be sealed in the LDS Temple in the US.

Or if Adam didn't get his visa, we planned to go to the Philippines, where on of my best friends Parents were serving a mission.

We fasted and prayed for his visa to come through.

That we could be married where my mom could attend.
So we had a traditional celebration before leaving the country.
IT was amazing.
Adam's mother Yeshi worked tirelessly
for days preparing the feast.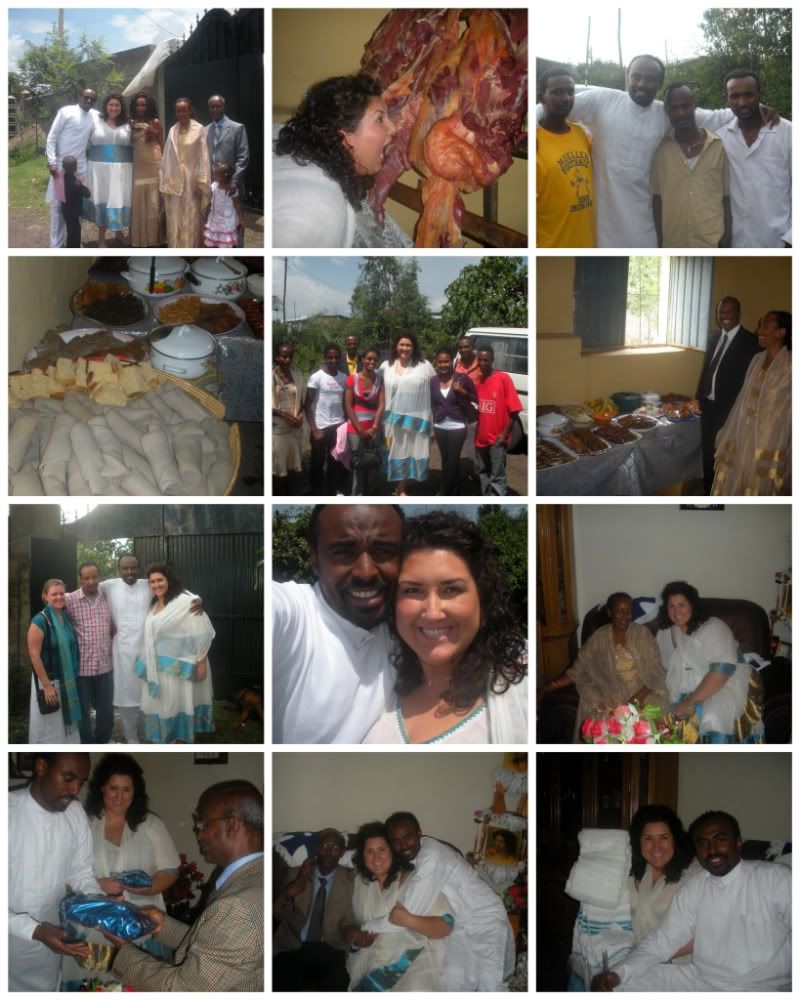 The whole neighborhood came together to help cook for days. Chopping
[onion/potatoes/peppers/tomatoes/meat]
and everything else you could imagine.
HOURS family and friends gave to help

cut meat,

cook injera,

wat,

veggies,

spaghetti,

treats and everything else.
We were in good company.
All of Adams siblings took two days off work to come to town to celebrate with us. Adams university friends came in from all over.
My coworkers took a public taxi on a 4 hour drive to make it up! it was amazing.
We were showered with traditional gives.
We listened to cultural music &
they even forced me to dance.....
It was an amazing day.
To celebrate our love.
To celebrate our culture.
To say goodbye to friends and family.
To send us off with well wishes for our
marriage and new life.
Hey Adam,

This has been the most amazing year of my life. Its been a joy to start our life here together in the US. I love you more now then I ever could have imagined that day. Thank you for loving me. For accepting me into your life and your family and your RICH heritage. I am so blessed to be a part of it all.



♥ the MRS.
---